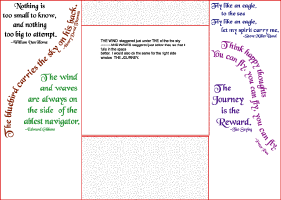 Step 1:
Joanie emailed us the dimensions of the room, the locations of windows and other areas to be left blank, the text she wanted to put in, and some ideas of how she wanted it laid out. After several revisions, we settled on the format here. Keep in mind this is scaled exactly to the room dimensions, so there is little guesswork as to if it will fit right. Compare this with the finished job below to see how close this layout is!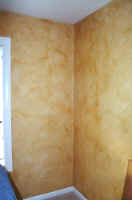 Step 2: Here is the wall prior to stenciling. It was prepped and faux finished. Make sure the paint is thoroughly cured before doing any type of stenciling.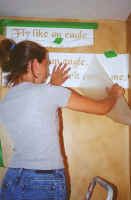 Step 3:

The stencils are positioned on the wall and taped in place with masking tape. Since the letters are all pre-spaced, just use a level to make sure they're straight. When you're sure of the placement, remove the protective backing and burnish the stencil onto the wall. Then remove the clear material on the front, making sure the letter centers stay behind.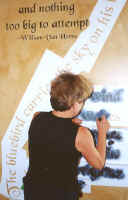 Step 4: Stencil normally using your preferred method. We do suggest you do one section at a time as shown.