About The Mad Stencilist
While working as a manicurist in her early adult years, Sheri Hoeger was introduced to the airbrush after she became locally known for painting custom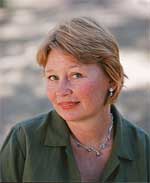 designs on her clients' nails. Later, as a stay at home mom, a friend showed her the traditional dry brush method of stenciling. When Sheri combined the two techniques, a career was born. She was dubbed (by her then nine year old son) The Mad Stencilist in 1988 and has worked in the decorative painting field ever since, focusing her custom work on residential interiors. Through the years she has studied with some of the best instructors in the decorative and fine art fields, and enjoys incorporating many painting techniques into her artwork.
Sheri is nationally known for her airbrushed stenciling technique, and her work has influenced the use of this tool by custom stencilers throughout the country. Sheri has taught workshops since 1993 including the national Stencil Artisans League Convention, private workshops at her Placerville, CA studio and premiere decorative painting schools across the country.
The Mad Stencilist has produced Embellishments Stencils since 1992, which now features over 200 original stencil designs. From trompe l'oeil to farm animals, fruit garlands to flowers, these are intricately cut, realistic looking designs available for home or professional use. The Mad Stencilist also produces the SayWhat? custom cut lettering and designs system for the application of letter-perfect and flawless decorative designs on virtually any surface. A wide variety of font styles and superior customer service are the hallmarks of this division, with custom design by Hugh Hoeger. Hugh has many years of graphic design experience and in 1997 brought his expertise in sales and marketing to join Sheri in the growing business.
Sheri's work and stencils have been featured in Magazines:
Better Homes and Gardens' Paint Décor • Romantic Homes • Window and Wall Ideas • Decorating Ideas • The Artistic Stenciler • Airbrush Action • 1001 Home Decorating Ideas • Somerset Studio
In Books:
The Complete Stenciling Handbook by Sandra Buckingham • Stenciling Techniques by Jane Gauss • Trompe l'oeil Murals With Stencils by Melanie Royals • Come Decorare con gli Stencil by Celina di Pisa • Stenciling for the First Time by Rebecca Carter • The Ultimate Airbrush Handbook by Pamela Shanteau
On television: Interior Motives with Christopher Lowell • The Carol Duvall Show